I've had the DENON PRIME GO now for just over a year. It replaced my Linux laptop / MIXXX / Pioneer DDJ-SB2 setup, which was great – but I'd had the occasional cryptic crash on stage that was near impossible to replicate in my home studio and debug effectively.
I feel I haven't abandoned Linux as the ENGINE OS DJ platform is an embedded Linux appliance under the hood – though it is not open source.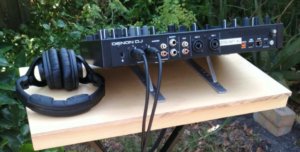 TLDR:
Great sound, convenient, reliable. Not perfect, but more than good enough. I've played a bunch of shows of various sizes using this device in the last year and it has delivered. It lets me enjoy the music and have fun.
I had one hardware failure with it – the cross-fader stopped working, but not while playing "live".  Denon/DJCITY repaired this under warranty, which took about 6 weeks.
On to the details….